Understanding Data Privacy and Data Protection in the '4.0' World – 15 November 2018

Morning Seminar 15 November 2018 0830 – 1030,
Understanding Data Privacy and Data Protection
in the '4.0' World
The Essentials, the rules in a global context, and how to manage for strategic advantage
Organised by the Nordic chambers, come and experience a Data Privacy Primer of key terms and concepts of the EU General Data Protection Regulation (GDPR) and the draft Thai Personal Data Protection law and a probing platform discussion on the issues. Led by Professor Dan Svantesson (Editor of the Oxford Journal of On-Line Data Privacy, Domain Expert in the Internet & Jurisdiction Policy Network and leading legal expert on data privacy – bio attached participate with a foreign, and local experts on these topics.

Background
Data has become a new currency as well as an asset of many companies, large and small. The value of trade in data may one day surpass trade in goods and services. The rapidly evolving global norm is for personal data (data from which a person can be identified) to be regulated and protected.
Many business leaders recognise the importance of data privacy. Many have even referred to data privacy as a basic human right. Trust is an essential ingredient in managing data, including facilitating its exchange. Good data privacy practices make for competitive advantage. Businesses and individuals need to trust the internet as a means of transmitting and providing access to confidential and often sensitive information and they also need to trust that the systems which protect that data are safe, secure and reliable. Civil society has similar objectives. Government plays a key role in this process, both as a regulator and as a user of data itself.
How is data regulated and how can I manage to advantage? What is the EU GDPR and why is it relevant in Thailand? If it is Personal Data which is protected, what about commercially-derived data which is based on analysis of aggregated consumer behavior? Can I view my own records (and correct them, or even take them down)? Do I have a 'right to be forgotten'? If I need to send data overseas, what are the cross-border rules? What is extra-territoriality? How can I best manage data?
Objectives of the seminar
This seminar will help to understand the vital and increasing role of data in business, society, and the economy, and the various approaches to data regulation, from the perspective of external laws such as GDPR, as well as what's expected by the proposed, new Thai law on Personal Data Protection. How regulation can benefit us and what will likely be necessary to comply. Joining us will be a group of leading experts in the field, where Professor Dan Svantesson an acknowledged leader in data privacy will share special insights.
Programme
Time
Session
08.30 – 08.45
Registration

08.45 – 08.55
Welcome speech
08.55 – 08.57
MC explains how the event works and its purpose
09.00 – 09.10
MC explains how the event works and its purpose
Primer on Data – some basic concepts about data, the three levels of consent, cross border; extra territoriality, derived data, data localisation, concepts from GDPR, concepts from the draft Thai Personal Data Protection law. (Primer is also included in the event booklet)
09.10 – 10.25
Moderated Topic Sessions (each speaker gives a 10-15 min. presentation, then a Q&A opportunity and discussions on the platform)


Professor Dan Svantesson – GDPR – what is it? , when does it apply? how does it compare with the proposed Thailaw. Key issues; how is the world grappling with regulation and governance?

Ms Siranya Rhuvattana, Senior Associate, Baker McKenzie on major challenges and issues in managing data

Ms Kari Kari Laumann, VP Privacy Asia, Telenor ASA. Operational and strategic issues in managing data.

Operational speaker.
Moderator - questions of participants.
Questions from floor using Pigeonhole.

10.25 – 10.30

MC closes
EVENT DETAILS
Date: Thursday, 15 November 2018
Time: 08.30 - 10.30
Venue: Arnoma Grand Bangkok (MAP)
Entry Fee:
• THB 600 for Non-members
• THB 400 for Nordic Chambers, JFCCT, EABC members
• THB 200 for Students and Media
• Free of charge for Government employees
*Prices are inclusive of coffee break*
RSVP: Please register here
DIRECTIONS from CHIDLOM BTS to ARNOMA HOTEL
1) ChidLom BTS exit 6 into Gaysorn Village.
2) To use the Gaysorn Village route, do not go to ground level, stay at level 2 in Gaysorn Village and walk on the 'R North' direction towards Gaysorn Tower
3) Towards the end of the building take elevator or escalator down two levels and exit (left hand side from the direction of travel) at ground level onto Ratchadamri Rd
4) Turn right on Ratchadamri Rd to Arnoma Hotel
About 4 mins.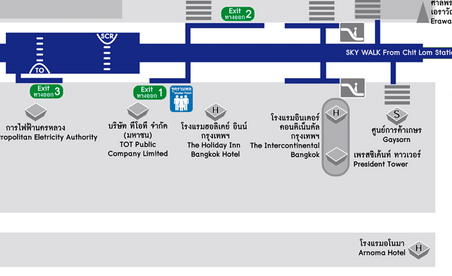 ---