Thailand eCommerce Day 15-17 June, Queen Sirikit National Convention Center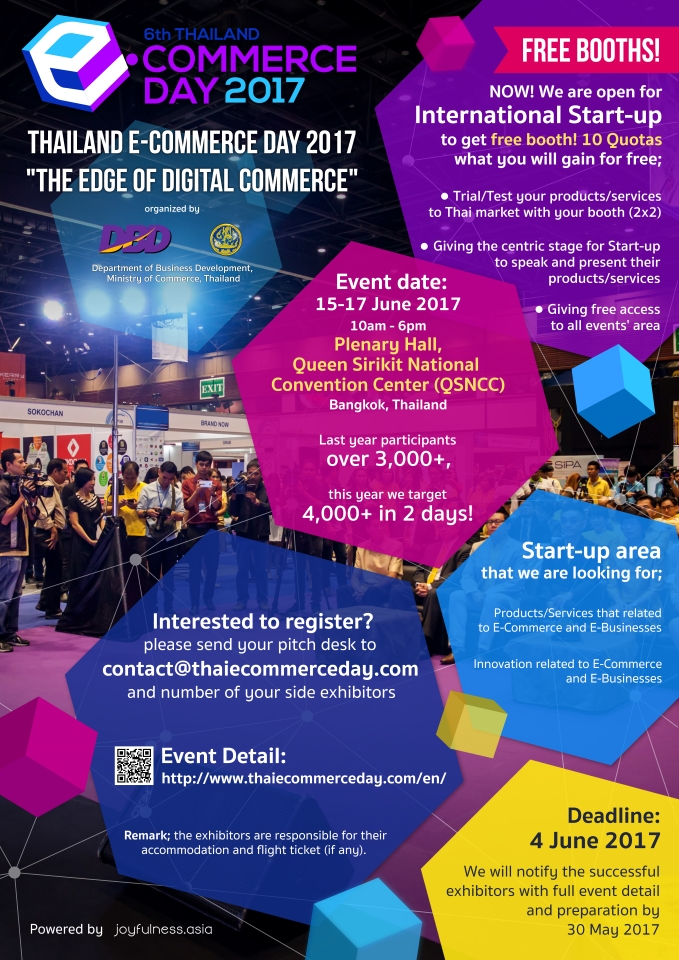 ---
WHAT IS THE THAILAND E-COMMERCE DAY?
THAILAND E-COMMERCE DAY is the integration of the entire e-Commerce ecosystem; it is the remarkable stage of e-Commerce in Thailand.
Along your journey in the 6th Thailand e-Commerce Day "The Edge of Digital Commercial", here is what you can see:
The e-Commerce ecosystem: e-Commerce platform, e-Payment service, e-Logistic, e-Marketing consultant, e-Packaging design and e-Storage management are waiting tohelp your business management more simply and efficient; help your payment andtransaction more easily and safety; help your products shipment more safety and timelyand help you to find your business from your innovative and creative ideas
Business opportunity: with the real-time functioned application; you can make your business matching anytime, anywhere and any devices. You will also find e-Commerce start-up, innovative and creative e-Commerce business ideas, as well as, the well-known e-Commerce brands looking for business partners
International Seminar: the very exclusive keynote speakers from national and multinational organizations. These spectacular experts and their experiences are waiting to share you the world e-Commerce trend, trip and tricks on how to create your own brand, how to improve your brand image and, most importantly, how to increase your sale.
Best e-Commerce Website Award 2017: we are going to announce who will be the best e-Commerce website in this year in the following field:
The Best Of Excellent e-Commerce Website Award 2017
The Best Of Creative marketing Award 2017
The Best Of Trustworthy e-Commerce Website Award 2017
THE THAILAND E-COMMERCE DAY 2017 is the most inclusive and innovative sharing in Thailand; don't miss this opportunity to find out how this opportunity can help you grow your own e-Commerce business and more than your expectation at 15-17 June 2017
JFCCT is a supporter of this event.