TDRI Advancing Fast Track Regulatory Reform Guillotine seminar Wed. 14 October 2020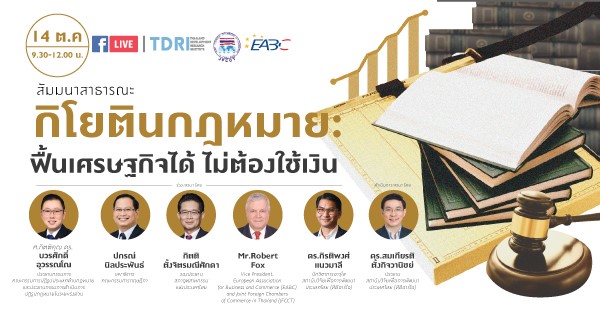 TDRI Seminar about Advancing Fast Track Regulatory Reform (Guillotine)
On 14 October 2020, Thailand Development Research Institute (TDRI), together with JFCCT and EABC, held a public seminar "Regulatory Guillotine: Economic stimulus by regulatory reform". More than 90 participants via Facebook livestream and many (including press) attended physically at the TDRI office.
Fast Track Regulatory Reform (Guillotine) is a way to review laws and regulations in Thailand, striving to reduce unnecessary processes or barriers to the establishment and the operation of business in Thailand.
The 'Simple and Smart License' project produced over 1,000 changes, ready for implementation. For more information about this and to show your support for advancement, here. Please indicated your interest in supporting – please advise K Meaw at info@jfcct.org– name, email, affiliation.
Speakers at the seminar on 14 October included Professor Dr. Borwornsak Uwanno , Mr. Pakorn Nilprapan, Mr. Kitti Tangchitmaneesakda, Dr. Kiratipong Naewmalee, and Mr. Bob Fox, Chair, Digital Economy/ICT group (JFCCT & EABC) and Vice President of EABC, with endorsements from Mr Stanley Kang (Chairman JFCCT) and Mr Luca Bernardinetti (President EABC). The event was moderated by Dr Somkiat Tangkitvanich President of TDRI. For more details, see Agenda below.
Please see attached Agenda, Bob Fox's presentation, JFCCT Chair endorsement, EABC President Endorsement, a one pager on Guillotine and questions posed through the platform.
To support these advances in fast track regulatory reform, please do provide your name, email and affiliation to K Meaw at info@jfcct.org. No funding will be sought; names will not be publicly disclosed. See more here.

Attached:
---