Foreign Investment & the Foreign Business Act-26th February 2019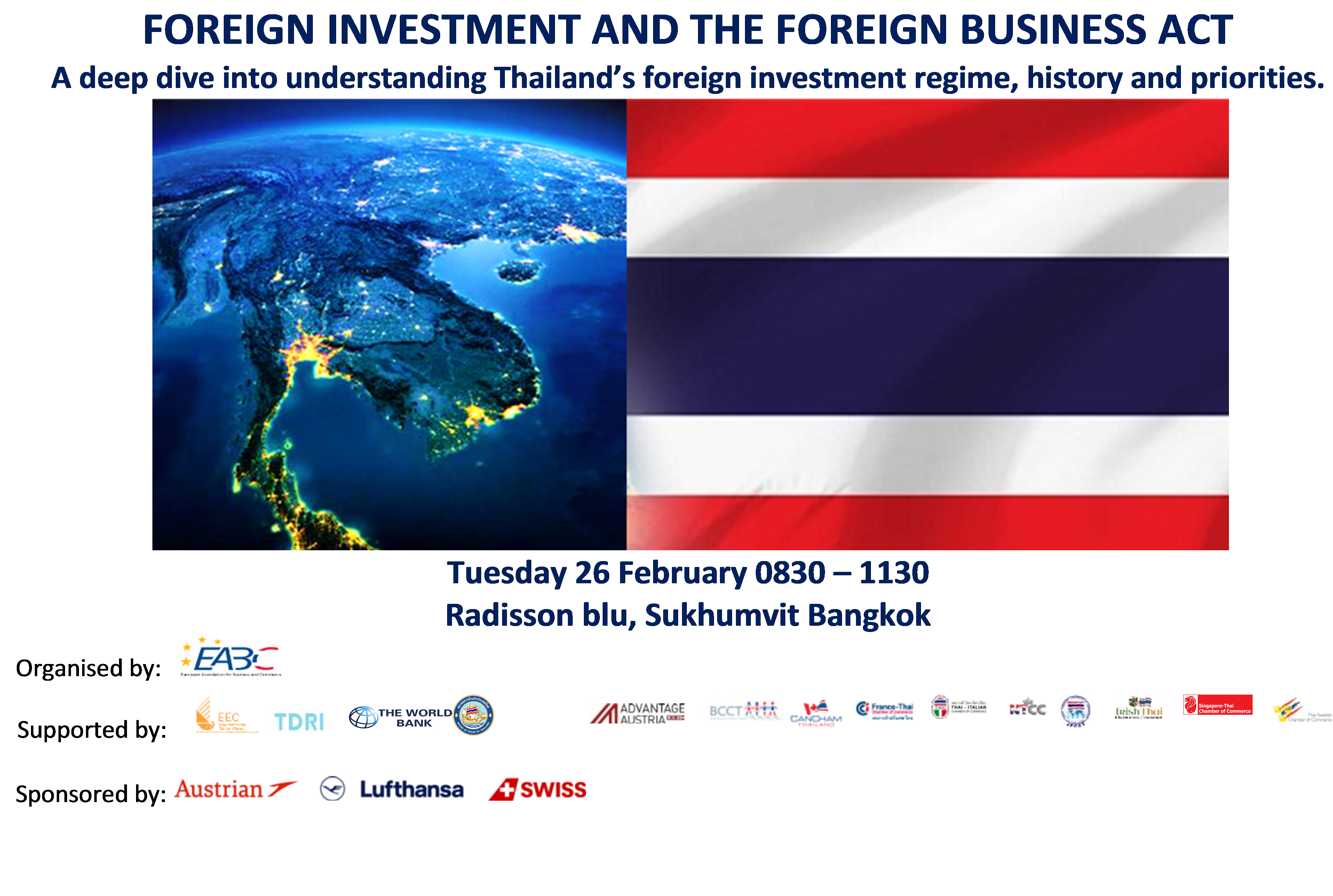 Introduction
The Foreign Business Act was enacted in AD 1999, with the intent of protecting Thai industries not yet ready to compete. It replaced an Alien Business law from 1972. An annual review mechanism was intended to allow industries over time to be opened up to competition, but that system has barely resulted in change. The Foreign Business Act is about commercial presence – ie business activities conducted by entities. Thus a company incorporated in Thailand with less than 50% foreign ownership is a 'Thai company' and would not face restrictions under the FBA, but a company with 50% or more foreign equity would be a 'foreign' company.
It is a generally accepted view that many industries are ready to compete, but they remain officially closed. Most companies would benefit from competition, rather than being harmed by it. The real harm is more likely to be the continued protection, allowing inefficient and non competitive practices. What should be done better to support the Thailand 4.0 vision?
While Investment Promotion via BOI recognizes the value of foreign investment, what about other areas? How is this foreign equity measured and what does it mean for the economy and possible future change? How are licences granted? How are industries defined?
This seminar aimed to provide an understanding of the workings of the regulation of foreign investment and insights into what can be done to contribute more to the competitiveness of the Thai economy.
The SEMINAR BOOKLETpeakers, bio notes; Primer, Backgrounder and recognition of Sponsors, Supporters, Organisers.
Programme
Time
Item
0800–0830
Registration and Refreshments
0830 – 0840
Opening

MC Welcome

Opening Remarks: Dr Giuseppe Busini. Minister Counsellor and Deputy Head of Mission, Delegation of the European Union to Thailand
0840 – 0900
Overview of Foreign Investment in Thailand via the FBA and other means – Mr. Vuttikrai Leewiraphan; Director-General, Department of Business Development, Ministry of Commerce
0900 – 0925
Foreign Investment economics and regulation Dr Deunden Nikomborirak, Research Director, Economic Governance TDRI

0925 – 0945
Process and Criteria for Foreign Business Licences and Foreign Business Certificates;
Mr Chaiwat Keratisuthisathorn, Senior Associate, Corporate & Commercial Department,Tilleke & Gibbins
0945 – 1000
Foreign Dominance Notification – what is it, what does it mean?
Mr Bob Fox, Chair JFCCT & EABC Digital Economy/ICT group
1000 – 1015
Break
1030 – 1125
Moderated Business Roundtable – major issues. Dialogue, then Q&A by Pigeonhole and directly.

Dr Hwee Khim Boo
Dr Jingjai Hanchanlash
Mr Nandor von der Luehe
Dr Deunden Nikomborirak
Mr Chaiwat Keratisuthisathorn

Moderator: Mr Bob Fox

Questions from floor: Use own handheld device to access the Pigeonhole platform, via
your own 4G cellular or the hotel's WiFi.
1125 - 1130
Closing– EABC.
See BOOKLET for Speakers, bio notes; Primer, Backgrounder and recognition of Sponsors, Supporters, Organisers.
---