EEC Business Forum- Reconnecting International Business with Thai Eastern Economic Corridor 14-16 October 2021 I Pattaya, Chonburi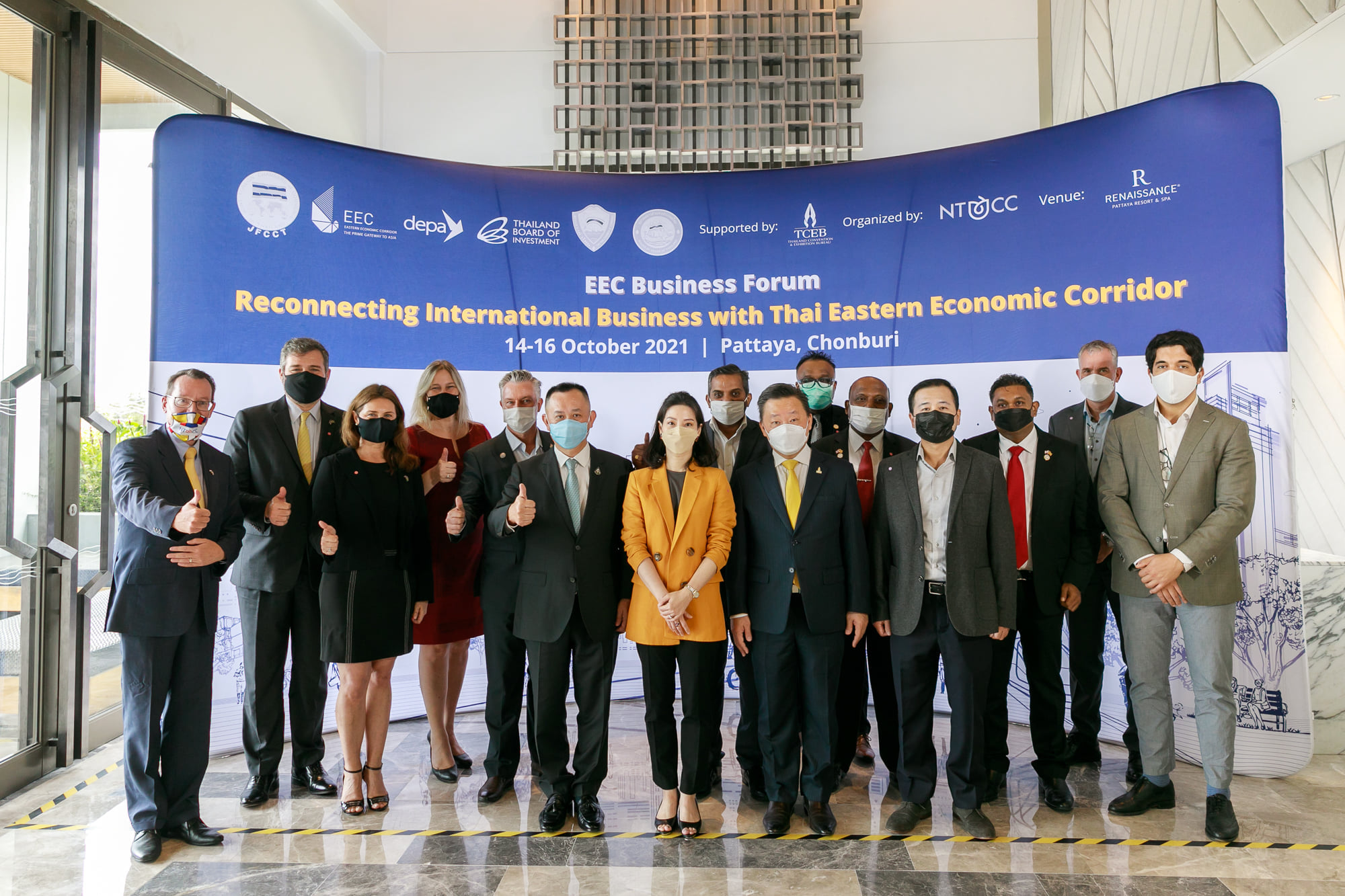 EEC Business Forum- Reconnecting International Business with Thai Eastern Economic Corridor
14-16 October 2021 at Pattaya, Chonburi
JFCCT and NTCC - Netherlands-Thai Chamber of Commerce have completed a successful event under 'One Chamber One Community' collaboration with Thailand Convention&Exhibition Bureau (TCEB). The event, "EEC Business Forum - reconnecting International Business with the Thai Eastern Economic Corridor", was held at Renaissance Pattaya Resort & Spa in a hybrid setting.
Thank you to Mr Chiruit Isarankun Na Ayuttaya, President of the Thailand Convention & Exhibition Bureau (TCEB), Mr Wuttisak Rermkitkarn, Deputy Mayor of Pattaya City and Mr. Stanley Kang, Chairman of the Joint Foriegn Chambers of Commerce in Thailand (JFCCT).
It also would not have been possible to have such an event without the kindness of the EECo, depa (Thailand), Pattaya Province and other private organisations.
We would like to extend further thanks to the kind sponsors of the event: Signify Commercial (Thailand), ViroPower Thailand and Upbeat Trailers
The event spanned across three days, opening with prominent speakers from the Thailand Digital Valley, Dr Preesan Rakwati, Vice President of Digital Agriculture Development and Promotion from depa Thailand, Mr Tienchai Makthiengtrong, Director of Office of Support Services Administration from Laem-Chabang Port, and Mr Pattarapon Munkongsupaleark, Vice President of Infrastructure & Utilities from Gulf Energy Development Public CoLtd.
More featured speakers included Dr Luxmon Attapich, Deputy Secretary General of the Eastern Economic Corridor of Thailand (โครงการเขตพัฒนาพิเศษภาคตะวันออก - EEC), who shared information about investment opportunities in the EEC, the Bio, Circular and Green (BCG) economic model and the 3 + 1 emerging clusters of sustainable economic growth: Health & wellbeing, Digital, Decarbonization and Logistic. Mr Edmond Lim, Director of Airport City Business and U-Tapao International Aviation CoLtd., presented a visual feature on the working infrastructure and development plan.
Mr. Joost Helms, Director at Eindhoven International Project Office, Mr. Jagannathan Srinivasan, Managing Director at Signify Commercial (Thailand) Ltd, Ms. Sunita Bottse, Chief Executive Director (CEO) of SUPERNAP Thailand, and Mr. Stefan van der Sluys, CEO at Best Global Logistics, participated in a panel discussion on shared business experiences.
The Takhian Tia Village Community at Fasai-Aiko Park in Chonburi Province hosted the last day of events, showcasing the local community.
JFCCT wishes to thank and congratulate all those involved for such an informative and successful event.
---