BOI-Foreign Chambers of Commerce Consultative Meeting – 17th February 2020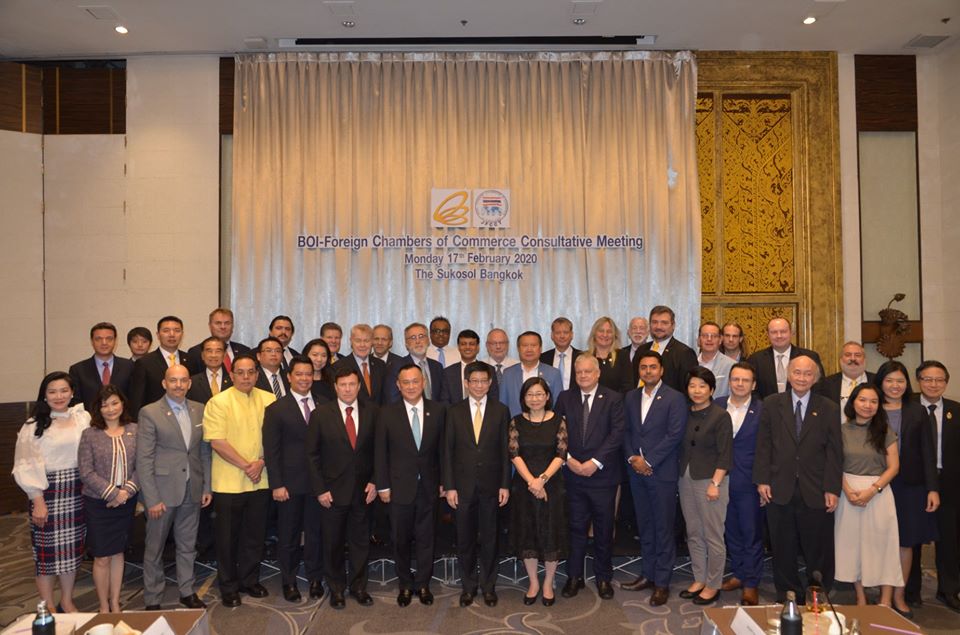 As has been done in past years, JFCCT (and other foreign chambers of commerce) and BOI held a consultative meeting on Monday 17 February 2020, 13.00 – 16.00 hrs. at Sukosol Hotel.
The Deputy Secretary-General to the Prime Minister for Political Affairs, Dr. Kobsak Pooltrakool and the Secretary General of BOI, Ms. Duangjai Asawachintachit welcomed all participants and in response, Stanley Kang , JFCCT Chair thanked Ms Duangjai and colleagues for their on-going commitments to enhancing the business and investment climate in Thailand and noted that for a long time a number of issues had not progressed, that the Guillotine project Phase 2 (about Licences) appeared to have stalled and that in the interests of the Thai economy, JFCCT welcomed this opportunity to focus on those major issues and work out how to overcome roadblocks.
Dr Kobsak spoke of several infrastructure projects, Ms Duangai provided an update on BOI policies . The JFCCT team walked through the agenda items with specific topics of interest to the business community. These are in the (Background Note, and Slide pack). – see below.
In the meeting, follow up actions were agreed by way of focus on a limited number of specific topics, with a 'Guillotine style' approach to be used. This was confirmed by a JFCCT letter to Dr Kobsak of 26 February.
JFCCT is grateful to Dr Kobsak, Ms. Duangjai and BOI staff, and to the government officials who participated.
Programme
Time
Session
12:30
Registration
13:00-13:20

Welcoming Remarks by Ms. Duangjai Asawachintachit, BOI Secretary General

Responding Remarks by Mr. Stanley Kang, Chairman of Joint Foreign Chambers of Commerce in Thailand

Address by Dr. Kobsak Pooltrakool, Deputy Secretary-General to the Prime Minister for Political Affairs

13:20-16:00
Discussion

I and II. Government Policies Update
– BOI Investment Policies
– Thailand Plus Policy
– New EEC Incentive Package
– Smart Visa

III. Suggested Items from JFCCT

– Fast pace Regulatory Reform – the Guillotine
– Productivity Growth and Investments – Services Liberalization
– Visa and Work Permit (See Background Note, and Slide pack).(Harmonisation handout, and 11 Feb JFCCT assessment of application)
– Agriculture – Structural and Regulatory Reform

IV. Contribution to Thai Economy by Foreign Chambers of Commerce

16:00
Adjournment
Follow up: Letter to Dr. Kobsak Pooltrakool on 26 February 2020.
---