BOI-Foreign Chambers of Commerce Consultative Meeting – 7th February 2019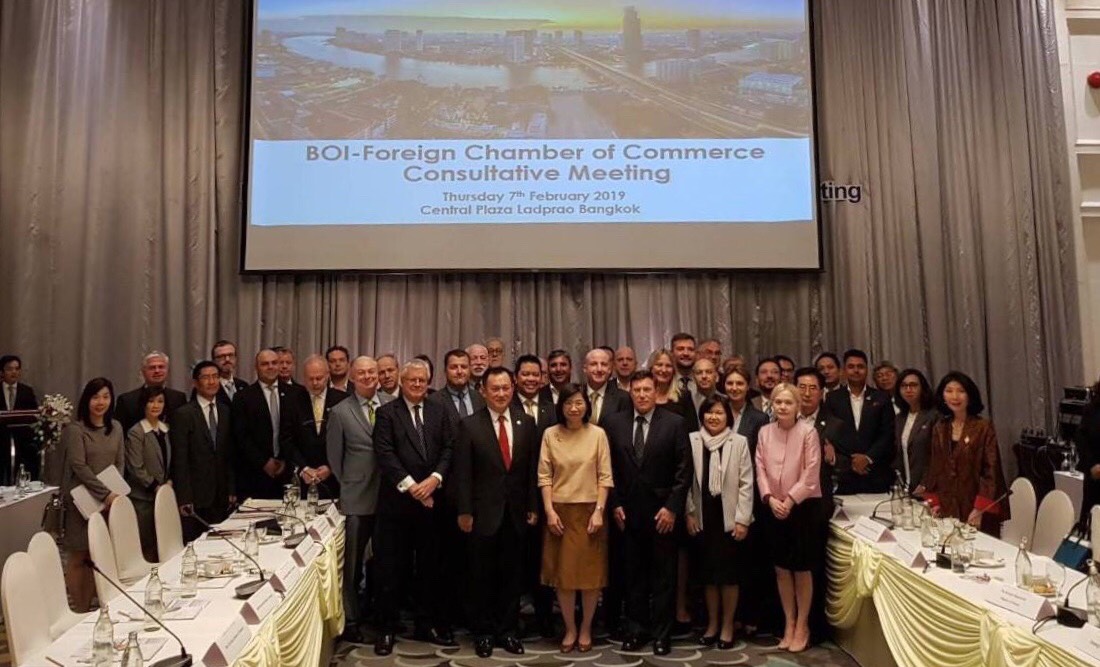 As has been done in past years, JFCCT (and other foreign chambers of commerce) and BOI held a consultative meeting on Thurs 7 February 2019, 13.00 – 16.00 hrs. at Centara Grand Hotel, Lad Prao.
The Secretary General of BOI, Ms. Duangjai Asawachintachit welcomed all participants and in response, Stanley Kang , JFCCT Chair thanked Ms Duangjai and colleagues for their on-going commitments to enhancing the business and investment climate in Thailand.
Ms Duangai provided an update on BOI policies and described the recent changes to Smart Visa, which introduced three new categories and made changes so that the program is more attractive. The JFCCT team and several JFCCT members walked through ten agenda items with specific topics of interest to the business community. These are in the (Background Note, and Slide pack). – see below. Follow up on these topics is underway.
JFCCT is grateful to Ms. Duangjai and BOI staff, and to the government officials who participated.
Programme
Time
Session
13:00
Registration
13:15
1. Opening:


Welcoming Remarks by Ms. Duangjai Asawachintachit, BOI Secretary General

13:10
Responding Remarks by Mr. Stanley Kang, Chairman of Joint Foreign Chambers of Commerce in Thailand
13:45

2. Government Policies Update
– BOI Investment Policies


Business Topics and Proposals (Background Note, and Slide pack).

3. Foreign Investment – services sector liberalisation
4A. Work Permit and Visa (additional chart) (TM.30 Experience).
4B. Human Capital Development
5. SME Support and promotion
6. Thailand's proposal for an ASEAN industrial 4.0 plan
7. Renewable energy
8. Agricultural Technology and Business
9. New International Business Centres (IBC) incentive
10. Digital Government

16:00
Adjournment
---