BOI-Foreign Chambers of Commerce Consultative Meeting – 31st January 2018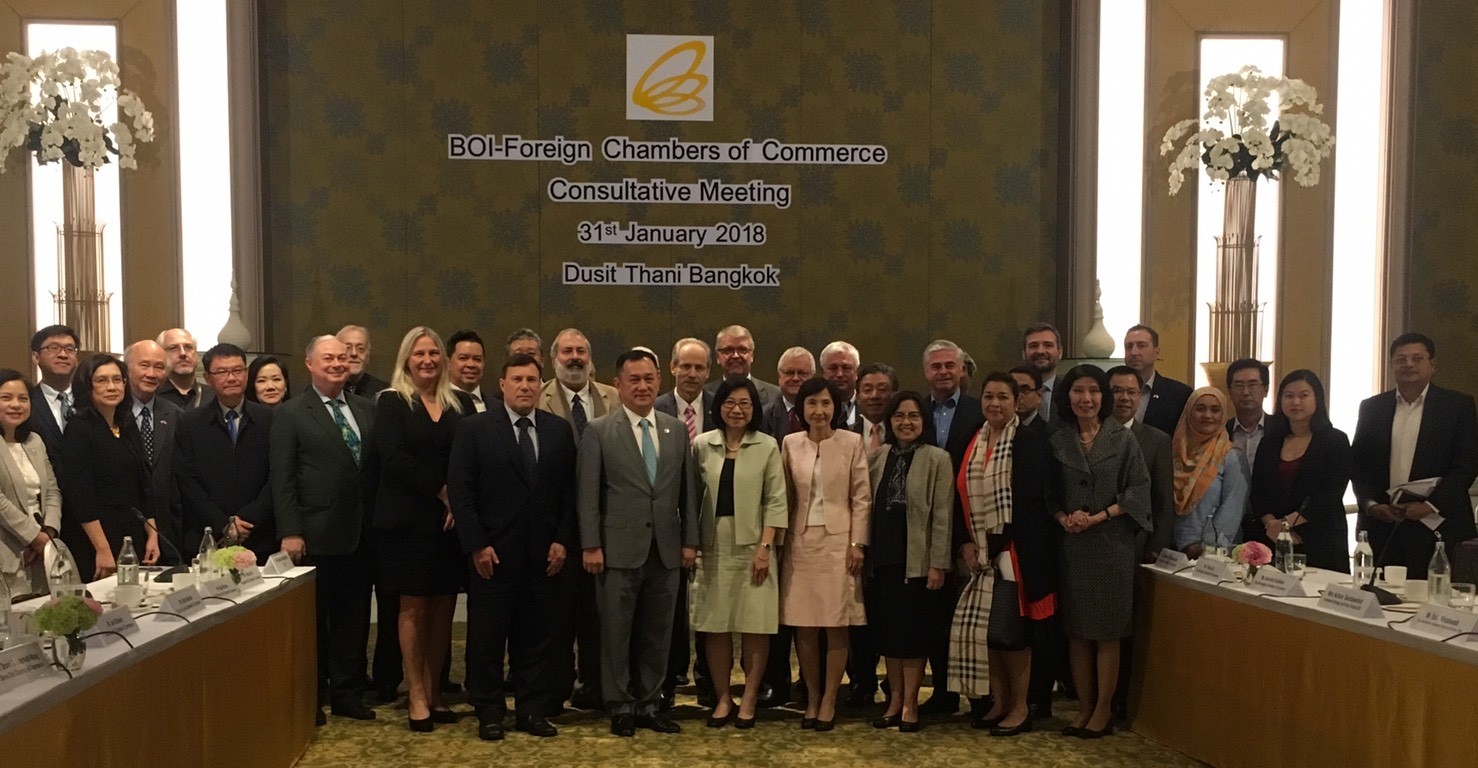 In keeping with a long tradition, JFCCT (and other foreign chambers of commerce) and BOI held a consultative meeting on Wednesday 31st January 2018, 12.30 – 16.00 hrs. at Vimarn Suriya Room, Dusit Thani Bangkok Hotel.
H.E. Dr. Kobsak Pootrakool, Minister Attached to the Prime Minister's Office delivered an opening address which expressed good assurance to the foreign business community about policy changes. The topics of discussion (see Agenda) included some longer-term, on-going issues such as Work Permit & Visa and Service Sector Liberalisation, and also a new area for JFCCT: Agriculture. H.E. Dr. Kobsak also described government policies on provincial development and how they would support agriculture. He kindly agreed to use all efforts to resolve the long-standing Work Permit and Visa issues.
The Secretary General of BOI, Ms. Duangjai Asawachintachit described the Smart Farming promotion and also the Smart Visa programme, which would commence on 1st February. Based on feedback, the Smart Visa is to be open to applicants already in Thailand. Although acknowledged as a start (with small scale scope initially), JFCCT has welcomed the Smart Visa programme and the changes made.
BOI and JFCCT (along with other foreign chambers) will collaborate further via joint working groups on specific topics.
JFCCT is grateful to H.E. Dr. Kobsak and to Ms. Duangjai and BOI staff, and to the government officials who participated.
Programme
Time
Session
12:30
Registration
13:00
Welcoming Remarks by Ms. Duangjai Asawachintachit, BOI Secretary General
13:05
Responding Remarks by Mr. Stanley Kang, Chairman of Joint Foreign Chambers of Commerce in Thailand
13:10
Address by H.E. Dr. Kobsak Pootrakool, Minister Attached to the Prime Minister's Office
13:20
Discussion
1. Sharing and Suggestion on Doing Business in Thailand
2. Issues raised from previous meeting
– Visa and Work Permits
– Service Business Liberalization
3. Agriculture Technology and Business
4. Human Capital Development
5. Contribution to Thai Economy by Foreign Chambers of Commerce
6. Government Policies Update
– BOI Investment Policy Update
– Smart Visa
16:00
Adjournment
---